By La Petite Acadienne
We all have wish lists, right?
There are wish lists, however, and there are wish lists. The former is compiled of things that you would love to receive, and that you might actually receive. (More on that tomorrow…)
The latter is pure and utter pie-in-the-sky fantasy, compiled of things that you would probably only receive if you grew up in the kind of house that has servants' quarters.
I'm convinced that I really DO have a rich, childless auntie out there who is unbeknownst to me but who has followed my progress since infancy and is just waiting for the right moment to announce herself.
Well, darling auntie, if you're thinking of popping up this holiday season and are wondering what the perfect little cadeau would be for your darling niece, look no further.
(Note to The Stonecutter: this list also applies to you, if we are someday unencumbered by that little thing called "reality". Just letting you know.)
1. This gorgeous Giorgio Armani bag.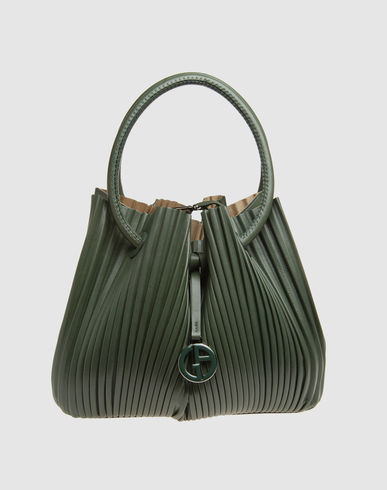 Dark-sage pleated leather? Well, okay…if you insist, I suppose I could live with it.
2. A black diamond ring.
I love the hammered gold on this ring, and the way that it gives the look of stacked rings without visually shortening the finger. Plus, black diamonds are just neat.
I own no purple shoes right now. That is just not right, because purple makes me happy, and pretty shoes make me happy, so pretty purple shoes would be like Reese's Peanut Butter Cups for my feet  — everything I want, and nothing I don't.
4. A housekeeper.
Being a working mom with a long commute, it always feels like we are falling behind on the housework, particularly where The Stonecutter works 50 hours a week AND has a side business on the go.  I'm pretty good at tidying and keeping things organized, but please, please do not look closely at my tile grout. I would luuuuurrrrve for someone to do those icky but necessary jobs for me, like cleaning out the fridge, scrubbing the tile, cleaning the light fixtures, and all of the other jobs that are on my "I'll Get To It…Sometime" list.
5. A vintage Chanel charm bracelet.
I love charm bracelets. My mom had one (I have no idea what she's done with it, however, and did not want to ask for fear of appearing grasping). This one is just lovely.
6. A new car
My aforementioned long commute means that my vehicle has seen better days. I would love to have something bigger, to more easily accommodate the Gigantic Car-seat of Awesomeness, plus all of the other assorted detritus that comes with having a young toddler. I would also like to have some bells, whistles, fireworks, fripperies, and doo-dads.  I think the Lexus RX 450h ("h" for hybrid) would fit the bill rather nicely.
7. This
When I saw this necklace, I just had to write about it. Actually, first I had to regain consciousness and pick myself off the floor, where I had been laying in a puddle of my own drool. And THEN I had to write about it.
May you all have a very sparkly holiday season!
Bisous,
LPA