By La Petite Acadienne
Let's talk about birthstones.
I'm guessing that an alarming number of you just had flashbacks to the multi-birthstone jewelry that your mom bought for you at Sears when you were 12.
I had a daughter's pride ring. I'd begged for it for the better part of a year, and when I received it, I was absolutely thrilled. Six months later, I went on a trip with my parents, and in a rare show of pre-teen responsibility, decided to leave my ring at home so that I wouldn't risk losing it.
While we were away, my older sister had friends over.
When we got back from our trip, my ring was nowhere to be seen.  I hunted high and low, to no avail.
Now I'm not saying that one of my sister's friends stole my beloved, cherished daughter' s pride ring. And I'm not saying that I took umbrage at being accused of just misplacing it, when I KNOW I had done no such thing. And I'm ALSO not saying that I'm still bitter about it, twenty-three years later.
Okay. Maybe I'm a little bitter.
My tale illustrates the point that birthstones often have a certain emotional resonance with us. Sometimes we love our birthstone, sometimes we hate it. However it is always something to which we have a connection.
November's birthstones are topaz and citrine. Specifically, yellow topaz and citrine. Blue topaz is definitely more common, and much easier to find, but it doesn't technically qualify as November's birthstone.   According to my very scientific research (in other words, Wikipedia), topaz  is "a silicate mineral of aluminium and fluorine with the chemical formula Al2SiO4(F,OH)2."  It is most commonly found in Brazil, and believe it or not, during medieval days, "it was thought to heal physical and mental disorders as well as prevent death."  Citrine is a variety of quartz — natural citrines are rare; most commercial citrines are heat-treated amethysts or smoky quartzes. It is nearly impossible to tell cut citrine from yellow topaz visibly, but they do differ in hardness.
Good to know.
Would this jewelry prevent death and heal disorders? Probably not, but at least you'd look very pretty in the meantime, no?
These earrings are a rather neat combination of hoop earring and drop-style earring, I think.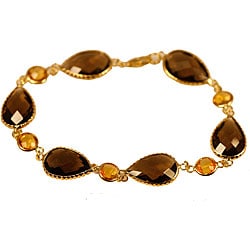 I love the autumnal tones in this bracelet.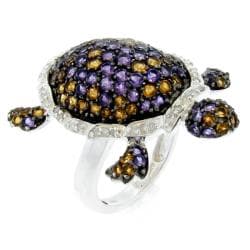 It's a turtle ring. Why the heck not, right?
Happy birthday to our November readers!!!
Bisous,
La Petite Acadienne