By La Petite Acadienne
Tonight I was rummaging through the box of jewelry that I no longer wear but that I hang on to for sentimental purposes, and I came across two class rings: my own from high school and my dad's from university.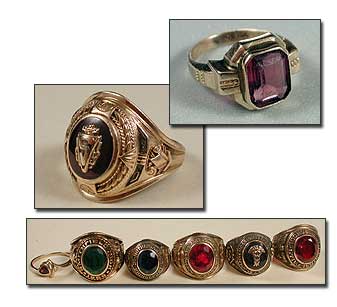 I don't wear my dad's, because it's too big for even my thumbs. I hang onto it, though, as the Wee One might like to someday have his grandfather's class ring.
I don't wear my own, because I feel that I've outgrown it.  Not in size. In spirit.
It's a simple design, rather girlie, with a faux garnet in the centre (my birthstone, which worked out well considering that red was our school colour.)
But is it the design that I've outgrown? Or do I just feel that I've outgrown it, due to the fact that I am a very different person from whom I was back in 1993?
Class rings, by the way, were thought to originate with the class of 1835 at West Point.  And according to etiquette, once you've graduated, you should wear your ring with the crest or insignia facing away from you, symbolizing that you're entering the wider world outside of school.
I see some people my age walking around still wearing their class rings (usually they're the ones wearing the uber-cool St. Francis Xavier University ring.)  I envy them their cool class ring, but also wonder if wearing your class ring is a way of hanging on to a younger, more carefree time, possibly preventing you from fully living in the here and now.
What are your thoughts on wearing your class ring? Do you wear yours? Why or why not? (And is yours as unspeakably nifty as the X-Ring?)
Bisous,
LPA