Friday, April 29th, 2011
By La Petite Acadienne
Hey, many of us want to look like a princess on our wedding day, right?
So if you're actually becoming a real, honest-to-goodness princess, there's that oh-so-tiny (read: ginormous) extra bit of pressure on you to look regal and stunning and all that good stuff.
I'm sure you folks have all read about the dress and hair and whatnot already, so let's get down to the baubles.
There aren't too many times in life that a girl can get away with wearing a tiara. But when you're marrying a prince? I'd say that you can probably go for it.
And if your tiara is one borrowed from an actual queen, then you just flat-out win.
Here are the details:
Her Cartier tiara was made in 1936 and was purchased by The Duke of York (King George VI) for his Duchess (The Queen Mother — rest her feisty soul) three weeks before he succeeded his brother as King. Queen Elizabeth received the tiara from her mother on her 18th birthday (I got a new sweater for mine).
Middleton's diamond earrings (by Robinson Pelham) were inspired by her family's new coat of arms: a pear-shaped diamond set drop and a pave-set diamond acorn in the center. Middleton's parents, Carole and Michael, gave them to her as a personal gift for her wedding day.
So it was a lovely blend of both old and new, traditional and modern, much like the couple themselves.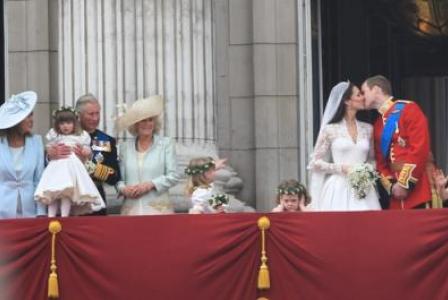 And of course, she already had "something blue" sewn up rather nicely:
And now we wait until that adorable rapscallion of a Harry gets hitched, so that we can be all a-flutter again.
Bisous!
La Petite Acadienne